If you are an Instagram Influencer, Twitter Key Opinion Leader, or YouTuber, welcome to join BKEX Media Outreach Ambassador Program and spread blockchain knowledge together.
BKEX was founded in 2018; it has been through intense marketing disturbances like LUNA drop-down and BTC drop-down (March 12th and May 19th). Fortunately, no accidents has BKEX been involved. It's due to BKEX's multiple signatures, offline signatures, layered architecture, and other technologies. The team is made up of senior blockchain industry practitioners and top global risk control talents, with subsidiaries or partner companies in Hong Kong, China, the United States, South Korea, Japan, Singapore, and others, providing secure and efficient crypto assets and derivatives trading services to users in over 100 countries and regions.
BKEX holds an MSB financial regulatory license issued by FinGEN, a subsidiary of the U.S. Treasury Department that has been operating in compliance. It has now developed into a product matrix of futures trading, spot trading, OTC, leveraged ETP, Contract Loan, IPFS computing power, etc.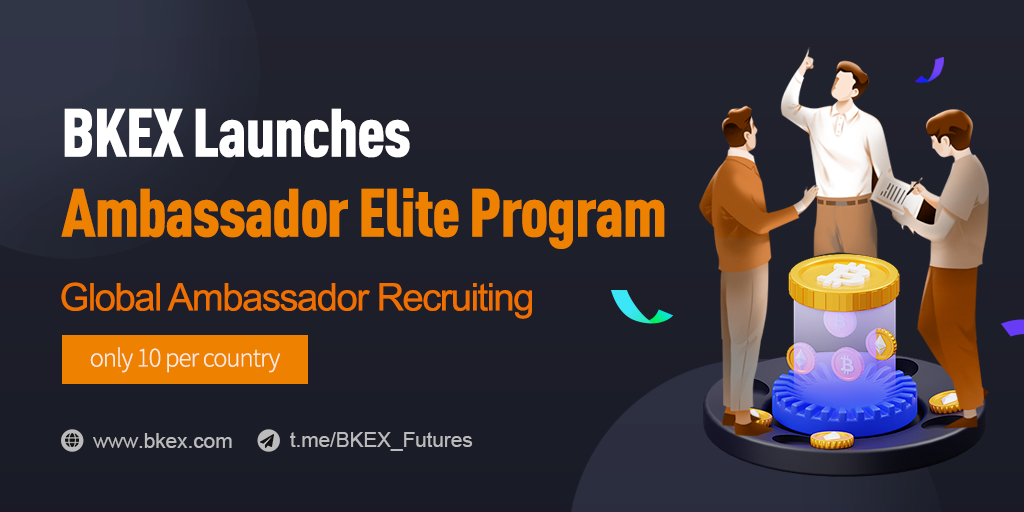 BKEX Global Data:
1. 24H trading volume: $ 97 billion
2. Registered users: 6.1M+
3. Daily active PV: 1.06M+
4. Daily active IP number: 210K+
5. Daily trading user volume: 160K+
Cumulative partner communities: 5,000+
Regarding product innovation, BKEX has three core products (Crazy Contracts, Copy Trade, and Contract Loan). Besides, there's a Welfare Center to give back to users; the large online arena will be launched next. Please stay tuned.
To develop and grow BKEX, spread blockchain knowledge, and promote the BKEX brand, we, at this moment, are launching a publicity ambassador program and inviting KOLs or senior blockchain enthusiasts to join us.
Benefits for ambassadors:
1. Share the benefits of BKEX community expansion and growth; the outstanding person can get the community support program.
2. Attend BKEX anniversary events and other blockchain events as a BKEX publicity ambassador.
3. There is no limit to original BKEX promotion content (copywriting, video, posters, etc.).
4. Lucrative bonus reward.
We will recruit ambassadors on Twitter, Instagram, Facebook, YouTube, Medium, Line, TikTok, etc. The details are as follows:
Duties for Ambassadors:
1. Regularly, 3-5 pieces of BKEX brand publicity content daily.
2. Maintain and spread the consensus of the BKEX brand to form consistent values and actions.
3. Dock local resources and assist/organize communication meetups and seminars (not mandatory).
4. Resist offensive messages and reasonably defend the image of BKEX (rewards for reporting and uploading found).
Requirements for ambassadors:
1. Have a specific understanding of BKEX.
2. Agree with the culture and values of BKEX.
3. Have experience in operating social media.
4. Have a high sense of responsibility.
Check it out: https://bkex.zendesk.com/hc/en-us/articles/8969136257177
Related Links:
BKEX Futures Rebate Registration: https://www.bkex.com/register/PMHKRGP3
BKEX Futures Telegram Group: https://t.me/BKEX_Futures
BKEX Futures Twitter: https://twitter.com/BKEXFutures
BKEX Futures Instagram: https://www.instagram.com/
BKEX Ambassador Recruitment:https://forms.gle/SF4qMJnrjExR6jkG6